STB Must Reject Absurd Proposal to Prop Up Monopolies
In an environment of record stock prices, mega-mergers and dramatic cost-cutting efforts, the railroads are trying to convince the Surface Transportation Board their balance sheets are too fragile and the Board should change how the financial health of the rail industry is measured. In reality, they're seeking to lock-in profits while continuing to lock out competition.
Each year, as directed by Congress, the Surface Transportation Board (STB) determines whether or not each Class I railroad is "revenue adequate," meaning that it is able to cover its costs, attract investment, and earn sufficient returns to provide a sound transportation system.  These determinations are important because Congress also directs the Board to make a "continuing effort" to assist railroads in attaining adequate revenue levels.
Today, the railroad industry is thriving, and the STB has found a majority of Class I railroads to be revenue adequate. While this is undoubtedly good news, some railroads fear that it may threaten the protective regulatory policies the Board adopted decades ago when the industry was financially struggling. And so, three major railroads (Union Pacific, Norfolk Southern, and Canadian National) are now calling for STB to redefine revenue adequacy in a way that practically ensures no railroad can meet the threshold.
The railroads' proposal is based on a false assertion that the Board understates the railroads' financial needs when in reality, the Board's current approach provides more than ample protection. In comments filed recently with the STB, a group representing some of the largest rail customers is calling on the Board to reject this unwarranted proposal and focus on long-overdue reforms that would better address challenges of the modern rail environment.
The Railroads Propose an Absurdly High Bar for Revenue Adequacy
A railroad meeting the Board's current revenue adequacy standard is able to cover all its costs, attract capital, maintain current assets, invest in new infrastructure, and generate competitive returns for investors. This is exactly what Congress intended in when it adopted the requirement in 1976[1].
The railroads have proposed a radical departure, claiming that no railroad should be considered revenue adequate unless it is more profitable than the median of the S&P 500[2]. But tying revenue determinations to the S&P 500 — a collection of top-performing firms such as Apple and Amazon – would transform revenue adequacy into a standard of superstar financial health. By definition, half of the nation's most successful firms would fail to clear this bar. That is like telling a high school student that she is not in "adequate" physical health unless that student can outrun half the varsity cross-country team.
If adopted, the proposal would classify all Class I railroads as woefully revenue inadequate despite real-world financial data showing that these same companies are more than capable of attracting investment and earning strong returns.
Today's Railroads are Thriving Businesses, Attracting Ample Investment
Since the Great Recession, railroad stock prices have far outpaced the S&P 500 index. During this period, the stock price of union Pacific increased 665%. Even the stock of Canadian Nation, the least profitable Class I railroad, increased about twice as fast as the S&P 500 index.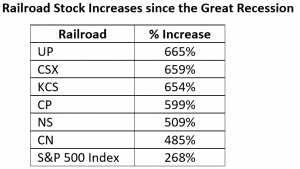 While stock prices do not tell the full picture of a railroad's financial health, outpacing the S&P 500 index over the long term cannot be ignored. At the very least, it validates the Board's conclusion that the industry is earning sufficient returns.
Other measures show the railroads' financially strength. For example, Union Pacific's most recent annual report highlights that the company "returned $6.3 billion to our shareholders in 2020," and invested $2.84 billion in its business. Similarly Norfolk Southern reported that it "funded $1.5 billion in capital improvement projects," "approved dividend distributions of $960 million," and "repurchased more than $1.4 billion of the company's shares." CN's most recent annual report highlights that the company "annually invest[s] approximately 20% of [its] revenues" in its business, and increased its quarterly dividend per share by 7% and paid $1.6 billion [CDN] in dividends in 2020. Clearly, these railroads are confident in their ability to attract capital.
In addition, multiple Class I railroads are actively seeking to acquire other railroads. In particular, the Canadian National and the Canadian Pacific have put tens of billions of dollars on the table for dueling bids to acquire the Kansas City Southern. Railroads themselves seem to have no reservations about whether investments in their industry will produce adequate returns.
The STB Should Adopt Pro-Competitive Reforms, Not Further Protect Monopoly Profits
STB's mission is to promote a safe and efficient rail transportation system, not to favor railroad profitability at over all other considerations.
Congress directed the STB to promote competition to the maximum extent possible and to maintain reasonable rates where there is an absence of effective competition.  The Board's rate review guidelines state, "Captive shippers should not continue to be charged differentially higher rates beyond what is needed for a financially sound railroad."  However, many rail shippers have no competitive transportation options and no meaningful process to challenge unreasonable rates.
With the railroad industry thriving, the STB should prioritize reforms to address these growing challenges.  First, the Board should adopt Final Offer Rate Review, a streamlined process to challenge unreasonable rates. Second, the Board should finalize new rules for Reciprocal Switching, which would promote competition by allowing a shipper served by a single railroad to switch its traffic to a second railroad at a nearby interchange.
The Board should focus on completing these long-overdue reforms, which have already been subject to extensive analysis and stakeholder input, instead of raising the revenue adequacy bar to absurd levels and protecting railroads' ability to charge monopoly rates.
[1] Congress established the revenue-adequacy standard in the Railroad Revitalization and Regulatory Reform Act of 1976 (Public Law 94-210).
[2] The proposal would remove railroads, financial institutions, and real estate firms from the comparison group.
America Needs Smarter Freight Rail Policies
The Rail Customer Coalition recently sent a letter to the head of President-elect Biden's Transportation Transition Team to share the coalition's top policy priorities for 2021 and to urge the new administration to support STB reform.
The country's transportation network is at a tipping point due to the fact that federal policies have not been able to keep up with major and disruptive changes within the freight rail industry. Massive consolidation and major operational changes have diminished service and driven up the cost to ship by rail.
Small and large businesses across America depend on railroads to connect them with their customers and are calling on policymakers to act on solutions that will get freight rail back on track. That is why the Coalition supports regulatory reforms at the Surface Transportation Board (STB) that will promote a healthy, reliable and affordable freight rail network.
The letter specifically asks President-Elect Biden to move quickly to fill the critical roles of both a Chairman and new member at the STB. It calls for current STB Vice Chairman Martin Oberman to be designated as Chairman upon the start of the Biden Administration. The coalition also requests that the upcoming Board vacancy be filled with an individual who shares the commitment in moving the Board forward, as demonstrated by Vice Chairman Oberman and Member Patrick Fuchs. The nominee needs to be fair-minded, objective and innovative in addressing freight rail issues.
With such strong leadership, and a full complement of Board Members committed to fulfilling the entire mission of the Staggers Rail Act, the STB can establish a more balanced and modern regulatory system that helps ensure that rail remains a vital mode of transportation well into the future.
Rail Customers Applaud Senate Vote to Confirm Final STB Nominees
WASHINGTON (November 19, 2020) – Members of the Rail Customer Coalition (RCC) commend the U.S. Senate for confirming Robert Primus and Michelle Schultz to fill the two remaining vacancies on the Surface Transportation Board (STB).
In July, the RCC sent a letter to the U.S. Senate Committee on Commerce, Science, and Transportation urging the confirmation of the nominees. This is the first time the STB has been fully staffed since the Surface Transportation Board Reauthorization Act of 2015 expanded its membership from three to five commissioners. Following this strong bipartisan action by the Senate, the STB should move without further delay to adopt commonsense reforms that promote competition and streamline overly bureaucratic procedures.
The RCC represents the largest customers of freight rail, including manufacturers, farmers, and energy providers. Coalition members account for more than half of the total volume of cargo shipped by rail and generate more than three-quarters of the revenue collected by America's Class I railroads, which is why a functioning and proactive STB is so essential to its members.
The following RCC member organizations issued statements regarding today's important vote:
Chris Jahn, President & CEO, American Chemistry Council:
"We applaud Majority Leader McConnell, Minority Leader Schumer and the entire Senate for working together to confirm Mr. Primus and Ms. Schultz to the Surface Transportation Board. They bring a wealth of experience to the Board when it comes to tackling complex transportation and policy issues, which will serve them well as the STB looks to modernize the nation's freight policies. With the addition of Primus and Schultz, the Board is in a strong position to enact much needed reforms and fulfill its Congressional mandate to promote a competitive and reliable freight rail system."
Heidi Brock, President & CEO, American Forest & Paper Association:
"The U.S. Senate confirmation of Michelle Schultz and Robert Primus to the Surface Transportation Board now brings the board to its full complement. We recommend the board advance long-overdue freight rail policy reforms. The paper and wood products industry is eager to work with the board to revoke the outdated commodity exemption policy and ensure our companies have an avenue to address harmful service and pricing issues. Such reforms support our industry's ability to move millions of tons of materials to production mills and final markets."
Scott Heisel, VP & Technical Director, American Malting Barley Association:
"The American Malting Barley Association would like to express its appreciation to the U.S. Senate for confirming Ms. Michelle Schultz and Mr. Robert Primus to the Surface Transportation Board. The barley supply chain depends on safe, efficient, and reliable freight rail system. A fully staffed STB, and the experience these individuals bring, will enhance the reform and modernization efforts envisioned when Congress passed the STB Reauthorization Act of 2015."
Zippy Duvall, President, American Farm Bureau Federation:
"Farmers and ranchers rely upon freight rail to move American-grown products from all regions of the country to markets at home and abroad, as well as to provide critical farm supplies to help plant, tend and harvest crops. Ensuring we have a functioning and fully staffed STB is critical for the agency to carry out its charge to protect the interests of farmers, rural businesses and railroads. We applaud the Senate for their action to confirm Robert Primus and Michelle Schultz."
Chet Thompson, President & CEO, American Fuel and Petrochemical Manufacturers:
"We commend the Senate for its work to confirm Mr. Robert Primus and Ms. Michelle Schultz to the Surface Transportation Board, a key independent federal agency charged with monitoring the economic health and efficiency of our surface transportation system. These confirmations will bring an even deeper wealth of experience to an already accomplished Board and provide a full complement of board members to implement STB's mission as it continues to tackle critical surface transportation issues. A healthy and efficient freight rail system benefits all stakeholders, and we look forward to STB's continued efforts to modernize freight rail policy and fulfill the agency's Congressional mandate to promote a fair, reliable, and competitive freight rail system."
Robin Rorick, VP of Midstream and Industry Operations, American Petroleum Institute:
"API applauds the Senate's bipartisan vote to fill the two vacancies on the Surface Transportation Board, and we congratulate Mr. Primus and Ms. Schultz on their appointments. Rail transportation is integral to providing American families and businesses with the reliable, affordable and cleaner energy they use every day, and we're hopeful the fully-staffed STB will be able to enact needed reforms on our country's rail system to enhance its performance and the relationships with the communities it serves."
Tom Madrecki, VP of Supply Chain and Logistics, Consumer Brands Association:
"The Consumer Brands Association and its members congratulate Robert Primus and Michelle Schultz on their confirmation to the Surface Transportation Board. The Senate's action to fill the last remaining STB vacancies are an important step in enhancing intermodal transportation and freight rail performance during a time of unprecedented supply chain demand across the consumer packaged goods industry."
John Bode, President & CEO, Corn Refiners Association:
"CRA and its members congratulate Mr. Robert Primus and Ms. Michelle Schultz for their confirmation by the Senate as members of the Surface Transportation Board. We also thank the Administration, as well as Majority Leader McConnell, Minority Leader Schumer, and the Senate for their work to fill these positions. CRA members are highly dependent upon reliable and economic rail transportation for their products, and we look forward to working with Mr. Primus and Ms. Schultz, along with the rest of the STB, on the reforms needed to ensure a reliable and efficient rail system."
Shelley Sahling-Zart, President, Freight Rail Customer Alliance:
"The Freight Rail Customer Alliance (FRCA) congratulates Michelle Schultz and Robert Primus on being confirmed by the U.S. Senate to serve as Members of the Surface Transportation Board. We sincerely thank the White House, Senate Commerce Committee and the full Senate for seeing these two nominations through the process. As allowed for in the STB Reauthorization Act of 2015, the Board will have five Members resulting in enhanced efficiency and transparency for the Board benefiting all stakeholders – including shippers and rail carriers, and the communities we both serve."
Steve DeHaan, President & CEO, International Warehouse Logistics Association:
"The International Warehouse Logistics Association thanks the Senate for confirming Michelle Schultz and Robert Primus to the Surface Transportation Board. With the Board now at full strength, we look forward to resolution of many of the challenges facing rail shippers. The US economy is dependent on a strong rail freight network, but it's time to get the pendulum to swing back and give the shippers a break from unreasonable demurrage charges and rates."
Eric Byer, President & CEO, National Association of Chemical Distributors:
"Having a fully staffed U.S. Surface Transportation Board is of paramount importance for chemical distributors. The STB makes critical decisions for rail customers that impact their daily operations and their bottom lines. The confirmation of Robert Primus and Michelle Schultz will go a long way in reaffirming the STB as the authority on rail issues, particularly as it relates to demurrage charges and rail service matters important to the chemical industry. We thank the Senate for confirming Primus and Schultz and look forward to working with them to ensure the Board can more effectively carry out its charge to protect the interests of rail customers and railroads."
Jennifer Hedrick, Executive Director, National Industrial Transportation League:
"The National Industrial Transportation League (NITL) and its members congratulate Michelle Schultz and Robert Primus on their confirmation to the Surface Transportation Board. Having a fully staffed STB is long overdue, and their addition will allow the Board to increase its focus on issues that affect freight rail users, including access to reliable and competitive rail service."
Dan Elliott, Legal Counsel, Private Railcar Food and Beverage Association:
"The Private Railcar Food and Beverage and its member companies strongly support the Senate's vote to confirm Robert Primus and Michelle Schultz to become members of the Surface Transportation Board. As a former member of the Board and now counsel to PRFBA, I sincerely believe these individuals will be an exceptional addition to the STB."
Philip K. Bell, President, Steel Manufacturers Association:
"SMA is pleased to see the U.S. Senate confirm Mr. Primus and Ms. Schulz to the Surface Transportation Board. These appointments will complete the staffing of the Board, and allow for its continuing efforts to implement good transportation policies for the American railroad system. Our members look forward to a more reliable and competitive freight rail system through the leadership of this Agency."
Congress Supports a Closer Examination of the Impacts of Precision Scheduled Railroading
With so many priorities competing for the attention of Congress, it was encouraging to see the U.S. House of Representatives support a much needed study of a key issue plaguing the businesses that depend on freight rail.
As part of the INVEST in America Act that recently cleared the House, Chairman DeFazio (D-OR) of the U.S. House Committee on Transportation and Infrastructure included an important provision that calls for a federal study of the impacts of Precision Scheduled Railroading by the U.S. Government Accountability Office (GAO).
During railroad shipper roundtable last year, DeFazio along with  the members of the committee heard firsthand accounts from many large and small business about how the drastic operational changes rashly enacted by the major railroads as part of their pursuit to implement Precision Scheduled Railroading (PSR) have threatened their operations. As part of their testimony, these companies provided detailed accounts of how these changes were often made with little advance notice or consultation and resulted in harmful service reductions and higher shipping costs.
The GAO study is a logical follow up to the roundtable and would provide a much needed examination of how these operational changes have impacted workforce safety, the quality and reliability of freight rail service, investments in railroad infrastructure, and additional fees charged to shippers.
A study will not make all of the problems that have come with PSR magically disappear, but the results could help guide future rail policy to promote a safe, strong, reliable, and competitive rail network and help drive the American economy forward.
STB Takes Action to Prevent Rail Carriers From Penalizing Shippers with Unreasonable, Excessive Demurrage Charges
When it took a proactive approach to addressing excessive and questionable demurrage charges, the Surface Transportation Board (STB) sent a clear message that business as usual was no longer acceptable. As Logistics Management observed, the Board's new policies will promote greater "transparency, timeliness, and mutual accountability" when it comes to demurrage charges.
Demurrage charges are supposed to create incentives to keep the rail network running efficiently. But in practice, it has recently become just another revenue stream and profit center for rail carriers. In 2019 alone, shippers paid nearly $1.5 Billion in demurrage and related fees. That's on top of all the other costs shippers pay to move goods and products.
Last year during a hearing before the STB, many customers testified that "they have no option but to pay the fees." The CEO of a Pennsylvania scrap recycler said at the hearing that his company saw a 560 percent increase in demurrage fees in 2018 and through April of 2019, those fees had already tripled. The supply chain director for a food processing giant said railroads told him their terms were "the price of admission for you to be on our railroad." A vice president of the world's largest chlorine manufacturer said his company has seen "no benefit and only added costs" from demurrage fees. And the head of the nation's Corn Refiners Association said current charges only "create new revenue streams for the railroads."
It wasn't just shippers who were critical of the railroad practices. Board member Martin Oberman wondered aloud, "I'm trying to understand if this makes sense for each shipper."
The existence of demurrage charges is not inherently bad. These charges can provide legitimate compensation to carriers when shippers fail to unload rail cars when they're supposed to. The problem arises when well-intended rail customers are subjected to unreasonable and excessive charges that penalize them for circumstances beyond their control.
In April, the STB issued a Policy Statement outlining the principles it will consider in evaluating the reasonableness of demurrage and accessorial rules and charges. The statement emphasizes that charges generally should not be assessed in circumstances beyond the shipper's reasonable control. The Board's action should help keep the rail network running efficiently while at the same time preventing the abuse of demurrage charges.
THE RAIL CUSTOMER COALITION
The coalition is a large collection of trade associations representing a broad cross section of manufacturing, agricultural, and energy industries with operations and employees throughout the United States, including: