STB Must Reject Absurd Proposal to Prop Up Monopolies
In an environment of record stock prices, mega-mergers and dramatic cost-cutting efforts, the railroads are trying to convince the Surface Transportation Board their balance sheets are too fragile and the Board should change how the financial health of the rail industry is measured. In reality, they're seeking to lock-in profits while continuing to lock out competition.
Each year, as directed by Congress, the Surface Transportation Board (STB) determines whether or not each Class I railroad is "revenue adequate," meaning that it is able to cover its costs, attract investment, and earn sufficient returns to provide a sound transportation system.  These determinations are important because Congress also directs the Board to make a "continuing effort" to assist railroads in attaining adequate revenue levels.
Today, the railroad industry is thriving, and the STB has found a majority of Class I railroads to be revenue adequate. While this is undoubtedly good news, some railroads fear that it may threaten the protective regulatory policies the Board adopted decades ago when the industry was financially struggling. And so, three major railroads (Union Pacific, Norfolk Southern, and Canadian National) are now calling for STB to redefine revenue adequacy in a way that practically ensures no railroad can meet the threshold.
The railroads' proposal is based on a false assertion that the Board understates the railroads' financial needs when in reality, the Board's current approach provides more than ample protection. In comments filed recently with the STB, a group representing some of the largest rail customers is calling on the Board to reject this unwarranted proposal and focus on long-overdue reforms that would better address challenges of the modern rail environment.
The Railroads Propose an Absurdly High Bar for Revenue Adequacy
A railroad meeting the Board's current revenue adequacy standard is able to cover all its costs, attract capital, maintain current assets, invest in new infrastructure, and generate competitive returns for investors. This is exactly what Congress intended in when it adopted the requirement in 1976[1].
The railroads have proposed a radical departure, claiming that no railroad should be considered revenue adequate unless it is more profitable than the median of the S&P 500[2]. But tying revenue determinations to the S&P 500 — a collection of top-performing firms such as Apple and Amazon – would transform revenue adequacy into a standard of superstar financial health. By definition, half of the nation's most successful firms would fail to clear this bar. That is like telling a high school student that she is not in "adequate" physical health unless that student can outrun half the varsity cross-country team.
If adopted, the proposal would classify all Class I railroads as woefully revenue inadequate despite real-world financial data showing that these same companies are more than capable of attracting investment and earning strong returns.
Today's Railroads are Thriving Businesses, Attracting Ample Investment
Since the Great Recession, railroad stock prices have far outpaced the S&P 500 index. During this period, the stock price of union Pacific increased 665%. Even the stock of Canadian Nation, the least profitable Class I railroad, increased about twice as fast as the S&P 500 index.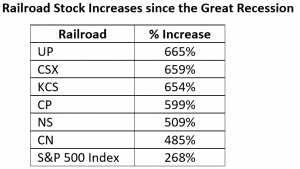 While stock prices do not tell the full picture of a railroad's financial health, outpacing the S&P 500 index over the long term cannot be ignored. At the very least, it validates the Board's conclusion that the industry is earning sufficient returns.
Other measures show the railroads' financially strength. For example, Union Pacific's most recent annual report highlights that the company "returned $6.3 billion to our shareholders in 2020," and invested $2.84 billion in its business. Similarly Norfolk Southern reported that it "funded $1.5 billion in capital improvement projects," "approved dividend distributions of $960 million," and "repurchased more than $1.4 billion of the company's shares." CN's most recent annual report highlights that the company "annually invest[s] approximately 20% of [its] revenues" in its business, and increased its quarterly dividend per share by 7% and paid $1.6 billion [CDN] in dividends in 2020. Clearly, these railroads are confident in their ability to attract capital.
In addition, multiple Class I railroads are actively seeking to acquire other railroads. In particular, the Canadian National and the Canadian Pacific have put tens of billions of dollars on the table for dueling bids to acquire the Kansas City Southern. Railroads themselves seem to have no reservations about whether investments in their industry will produce adequate returns.
The STB Should Adopt Pro-Competitive Reforms, Not Further Protect Monopoly Profits
STB's mission is to promote a safe and efficient rail transportation system, not to favor railroad profitability at over all other considerations.
Congress directed the STB to promote competition to the maximum extent possible and to maintain reasonable rates where there is an absence of effective competition.  The Board's rate review guidelines state, "Captive shippers should not continue to be charged differentially higher rates beyond what is needed for a financially sound railroad."  However, many rail shippers have no competitive transportation options and no meaningful process to challenge unreasonable rates.
With the railroad industry thriving, the STB should prioritize reforms to address these growing challenges.  First, the Board should adopt Final Offer Rate Review, a streamlined process to challenge unreasonable rates. Second, the Board should finalize new rules for Reciprocal Switching, which would promote competition by allowing a shipper served by a single railroad to switch its traffic to a second railroad at a nearby interchange.
The Board should focus on completing these long-overdue reforms, which have already been subject to extensive analysis and stakeholder input, instead of raising the revenue adequacy bar to absurd levels and protecting railroads' ability to charge monopoly rates.
[1] Congress established the revenue-adequacy standard in the Railroad Revitalization and Regulatory Reform Act of 1976 (Public Law 94-210).
[2] The proposal would remove railroads, financial institutions, and real estate firms from the comparison group.
STB Takes Action to Prevent Rail Carriers From Penalizing Shippers with Unreasonable, Excessive Demurrage Charges
When it took a proactive approach to addressing excessive and questionable demurrage charges, the Surface Transportation Board (STB) sent a clear message that business as usual was no longer acceptable. As Logistics Management observed, the Board's new policies will promote greater "transparency, timeliness, and mutual accountability" when it comes to demurrage charges.
Demurrage charges are supposed to create incentives to keep the rail network running efficiently. But in practice, it has recently become just another revenue stream and profit center for rail carriers. In 2019 alone, shippers paid nearly $1.5 Billion in demurrage and related fees. That's on top of all the other costs shippers pay to move goods and products.
Last year during a hearing before the STB, many customers testified that "they have no option but to pay the fees." The CEO of a Pennsylvania scrap recycler said at the hearing that his company saw a 560 percent increase in demurrage fees in 2018 and through April of 2019, those fees had already tripled. The supply chain director for a food processing giant said railroads told him their terms were "the price of admission for you to be on our railroad." A vice president of the world's largest chlorine manufacturer said his company has seen "no benefit and only added costs" from demurrage fees. And the head of the nation's Corn Refiners Association said current charges only "create new revenue streams for the railroads."
It wasn't just shippers who were critical of the railroad practices. Board member Martin Oberman wondered aloud, "I'm trying to understand if this makes sense for each shipper."
The existence of demurrage charges is not inherently bad. These charges can provide legitimate compensation to carriers when shippers fail to unload rail cars when they're supposed to. The problem arises when well-intended rail customers are subjected to unreasonable and excessive charges that penalize them for circumstances beyond their control.
In April, the STB issued a Policy Statement outlining the principles it will consider in evaluating the reasonableness of demurrage and accessorial rules and charges. The statement emphasizes that charges generally should not be assessed in circumstances beyond the shipper's reasonable control. The Board's action should help keep the rail network running efficiently while at the same time preventing the abuse of demurrage charges.
STB Reform: Providing a Much Needed Dose of Reality
There is near universal agreement that the agency charged with resolving freight rail issues is stymied by its own outdated and overly-burdensome rules. The Surface Transportation Board's (STB) Acting Chairman, Ann Begeman, perfectly encapsulated these concerns when she declared that the Board's rate review process "is too costly, too time consuming, and too unpredictable." As members of the Board continue to look for better and less bureaucratic ways to operate, a sensible proposal has emerged in the form of new legislation introduced by Senator Tammy Baldwin (D-WI), "Rail Shipper Fairness Act."
Regulatory Morass
The heart of the problem plaguing the STB's current rate review process stems from the Board's arcane Stand-Alone-Cost (SAC) standard for measuring the reasonableness of rail rates. To successfully challenge a rate, a shipper must design, on paper, an entire railroad business, and prove that it could serve the same traffic at a lower cost than the rates charged by the existing railroad. If that sounds ridiculously complicated that's because it is.
Recent SAC cases have taken an average of 5 years to complete and cost each shipper well over $5 million. Because of the incredible complexity involved, Russell Pittman of the US Department of Justice's Antitrust Division concluded that SAC "has become what a reviewing court feared it would be: 'a full employment bill for economists.'"
The cost and complexity might be somewhat tolerable if SAC truly was the "gold standard" for reviewing rates that some claim it to be. Unfortunately, SAC fails on economics grounds as well. In fact, Professor Gerald Faulhaber, the economist who first defined the SAC concept has testified to the Board that "The use of the stand alone cost test for STB rate making in the freight rail industry has no economic validity." And if that was not enough, SAC also fails to answer the fundamental question of whether or not rates charged to captive shippers are unreasonable compared to competitive market rates.
Market Based Solution
The Rail Shipper Fairness Act introduced by Senator Baldwin directs the STB to develop an alternative rate review standard that would employ Competitive Rate Benchmarking. Under this approach, rail shippers that lack access to competitive transportation options could compare their rates to "benchmarks" for competitive rail traffic. The benchmarks would be based on real-world data for similar competitive traffic.
As they do now, railroads would remain free to set rail rates in competitive markets. A captive shipper, however, could challenge a rate that is substantially higher than its competitive benchmark. The STB would determine whether and to what extent such higher margins are necessary for the railroad to be financially strong, to maintain its network and to attract capital.
The concept of rate benchmarking is well-grounded in economics and widely-employed by businesses and government agencies. In fact, using benchmarking to address skyrocketing freight rail rates was endorsed in a 2015 report by the National Research Council's Transportation Research Board, which constructed models demonstrating how the approach could be implemented in practice.
The Rail Shipper Fairness Act wisely pushes the STB to adopt a more transparent, predictable and efficient alternative to the SAC standard. Doing so would finally allow the Board to judge the reasonableness of rates using real world data on rates charged in competitive markets rather than hypothetical data derived from a fictitious railroad.
With the support of so many experts and stakeholders, it's hard to deny that adopting this practical reform will go a long way in helping get the STB back on track and get our nation's freight rail system back to work for American manufacturers, farmers and energy producers.
STB's Competitive Switching Proposal: Is the Sky Falling or is the Tide Rising?
In one of its more important proceedings to date, the comment period just closed on the Surface Transportation Board's (STB) long-awaited proposed changes to its outdated competitive switching rules. A large and growing chorus, including a broad range of manufacturers, farmers, and energy producers, weighed in with comments of strong support for the STB's proposal, which would fulfill the Board's mandate to provide greater access to competitive rail service.
As one would expect, the rail industry is not keen on losing its regulatory protections and is making dire and inaccurate claims that allowing the free market to work is actually a bad thing. Despite these dubious charges, the STB commissioners can take comfort in the fact that the sky will not come crashing down. Competitive switching will not make railroad operations less efficient, will not degrade service, and will not hinder railroad investments.
Testimony submitted to the STB demonstrates that claims by the rail industry are without merit. In his statement to the Board, John Orrison, a railroad operations expert with over 40 years of Class I railroad experience, concludes that competitive switching "will have little effect on the operating efficiencies that railroads have realized over the past three decades."
As explained by Orrison, competitive switching often requires no additional handling of trains. Typically rail cars leaving a shipper facility are already taken to a local switch yard, where they are switched from a local train to an outbound train. In these scenarios, competitive switching simply allows a shipper to choose whether that outbound service is provided by the incumbent railroad or a competing carrier. Railroads are fully equipped to handle new traffic patterns and overall rail efficiency will not be degraded.
Furthermore, the STB would review competitive switching requests on a case-by-case basis. The Board would have discretion to deny a request in specific situations where switching would impose unreasonable challenges to railroad operations.
Orrison goes on to explain that competitive switching "is unlikely to chill a Class I railroad's investment in its network." While railroads claim that the potential loss of traffic will drive down investment incentives, experience shows that railroads actually invest heavily in areas where they face competition. They invest to capture greater market share and to lower operating costs. Competitive switching will provide similar investment incentives.
STB members should look skeptically at the hypothetical and baseless concerns that competitive switching will somehow grind rail operations to a halt, especially when there is also clear evidence that a similar system has worked well for more than a century in Canada. As stated by the Canadian Pacific Railway, railroads subject to Canada's competitive switching requirements are "the two most efficient carriers in the industry today, demonstrating that a low-cost, service-focused carrier can increase revenues, operate efficiently, and reinvest in infrastructure in a competitive environment."
The STB can take heart in the fact that testimony from a rail industry veteran and real-world experience in Canada demonstrates that competitive switching will help drive railroad efficiency and investment, just like it does in other industries. Now that's a rising tide that everyone can benefit from.
Free Market Reforms Are the Bedrock of Competitive Freight Rail Service
The Surface Transportation Board (STB) has proposed long-overdue reforms that will remove regulatory barriers and help promote greater competition within the freight rail industry. Instead of embracing these free market reforms, the railroads are claiming that STB's proposal for "competitive switching" is unlawful.
Competition is the cornerstone of a strong and efficient economy and is typically embraced by industry as a better alternative to regulatory protections for establishing prices for goods and services. The fact that the STB's proposal recognizes that the marketplace is preferable to regulatory oversight should be welcome news to the railroads as it is to the broad array of businesses across America – big and small – that use freight rail.
The STB should be given credit for adhering to the law that directs the Board to ensure effective competition among rail carriers. That law, the Staggers Rail Act of 1980, established competition as a fundamental goal of U.S. freight rail policy. The same law is heralded as saving the railroad industry from the brink of destruction.
Under the statute, the STB's first responsibility is "to allow, to the maximum extent possible, competition and the demand for services to establish reasonable rates for transportation by rail." In other words, the Board is required to promote rail competition wherever possible.
As if that were not clear enough, Congress went further to define one of the key tools that the STB can use to further this objective. The Staggers Act states,
"The Board may require rail carriers to enter into reciprocal switching agreements…where such agreements are necessary to provide competitive rail service."
Reciprocal switching, also known as competitive switching, would allow a shipper that is served by a single major railroad to request to have its freight "switched" to another major railroad at a nearby interchange. Switching simply allows rail customers such as farmers, manufacturers and energy providers to choose a rail carrier that provides the most competitive rates and best service.
This proposal is needed because outdated rules in place at the STB impose such high regulatory hurdles that no rail customer has ever been able to successfully request switching. As stated by the Board itself, the current rules have "effectively operated as a bar" rather than as "a standard under which [switching] could be granted."
Railroads argue that it is somehow illegal for STB to require competitive switching unless a railroad is found guilty of "abusive" practices. This argument perversely views competition as a punishment rather than recognizing it as the bedrock of American commerce. As highlighted recently by a bipartisan group of Senators and a former STB official and longtime railroad industry employee, STB's authority to use reciprocal switching to promote rail competition could not be clearer.
Furthermore, the National Academies of Science's Transportation Research Board has urged STB to update its policies, concluding,
"Some of the [railroad] industry's remaining economic regulations have not kept pace and should be replaced with practices better suited for today's modern freight rail system."
Moving away from the STB's outdated protections for the railroads and obstacles to commerce is not only legal, it is smart. It's time for the STB to remove regulatory barriers and put competition back on the tracks.
THE RAIL CUSTOMER COALITION
The coalition is a large collection of trade associations representing a broad cross section of manufacturing, agricultural, and energy industries with operations and employees throughout the United States, including: