It's Time for Rail Reform
A healthy, efficient and competitive freight rail system is essential to the U.S. economy, but outdated policies that protect railroads at the expense of robust competition and consumer choice have weakened this vital link.
The result?
Rail rates have doubled since 2001 as access to competitive and reliable freight rail service has decreased for many manufacturers, farmers and energy producers across the country.
Read and Learn More
Take Action
Experts Say a New Approach Is Needed

A National Research Council report echoes what many manufacturers, farmers and energy producers say: rail policies haven't kept pace with a changing industry.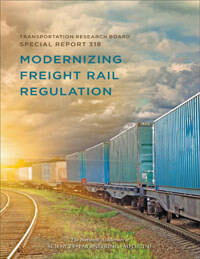 Long Overdue Changes on the Right Track
The STB has begun to make progress on sensible reforms, including the Board's competitive switching proposal, that will bring the nation's freight rail policies out of the steam-age and into the 21st Century. To help improve the flow of goods by rail throughout our economy, the STB must complete its work without further delay.